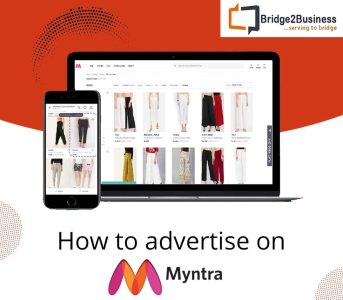 Learn why Myntra's Search Advertising Property (PLA and List Ad Banners) is the latest opportunity for all Indian sellers to increase their online sales
Over the years myntra has emerged as a promising platform for fashion and accessories. It has managed to create a special bond with its customers by delivering good quality products at affordable prices.
The platform has opened opportunities for both customers and sellers. Let's discuss what myntra has to offer for a seller.
What are your advertising options on Myntra?
The biggest news is that now myntra has opened its door for creating search advertising campaign through its newly introduced PLA program.
Myntra has introduced 2 types of search advertising properties: Product Listing Ads and List Ad Banners. 
This is a great opportunity for all sellers to make the most of this at its inception level but all of this will achieved if you have experience with creating online marketing campaigns.
Product Listing Ads (PLA)
Search-triggered product ads
Search-triggered banner ads

Ads on the 8th multiple slots of listing pages (8th, 16th,
24th, and so on)
Banner ads after the 7th, 17th, and 23rd rows of
products on product listing pages (within 60 products)
Cost per thousand Impressions (CPM)
One of the major benefits of advertising with Myntra is through its PLA program.  The portal offers product listing advertisement facilities that be really helpful for you if you are looking for ways to boost your sales on Myntra.
With search Advertising option like the PLA and List Ad Banners, you can advertise the products on keywords which are most searched on the myntra website by customers. For example, if someone searches for "men blue t-shirt", then you can advertise your catalogue on this keyword through PLA. 
You can promote, track and modify the advertisement at any given point to create a better campaign.
Why should you enrol for search advertising?
12+ return on Investment.

More than 350 brands nationwide are participating currently

Complete report is available on the dashboard of the participating sellers
Currently, the PLA can be activated through internal requests from the brands. Unfortunately, unlike Amazon or Flipkart, Myntra does not have self-serving platform for creating the campaigns.
You can share the below details with the marketing or brand SPOC:
 

List of Myntra Style IDs in an excel sheet

Cost per click

Total Budget (Min budget is 20,000)

Campaign duration

Start date/time

End date/time
You can also create multiple campaigns with different style IDs.
How to monitor the campaign performance?
The Myntra Ad Ops team will share a report monthly or after your budget is consumed completely for a campaign. The level of information shared in these reports include the following:
Impressions: Impressions are simply the views that your ads received for the specific keywords that the ad is running for.

Clicks: The no. of clicks that your product ads received.

CTR (Click through Rate): It is the click to impressions ratio. Usually expressed in %age, it indicates, out of 100, how many times the users clicked on your ads.

Qty : Units sold through the ads.

Revenue : Revenue generated from the ads.

Ad Budget Consumed : The total amount that got consumed out of the allocated budget.

ROI : Return on Investment is an important performance indicator of your ads. It is the ratio of Total Ad Revenue and Total Ad Spend.
Apart from this, the Ad performance reports are also available on your partner portal. Once enabled by coordinating with the Brand SPOC, the "Advertisement Mgmt" tab will be enabled in the sidebar.



Some useful tips for getting the best of Myntra's PLA program
The PLA program can become a little overwhelming but don't worry as we are offering some great insights and tips for you to make the most of it.


You can always choose a category or product style which is currently performing well on the platform and which has the potential to give great return on investment in the coming days. This way you plan sure profits from your PLA campaign. 
Always avoid delisted products and slow moving styles as they can act as a hurdle between the good return on investment you expect from a well-designed PLA campaign.
To succeed and get ahead of other sellers, always run list ad banner campaigns for the categories you think have the most potential for good conversions and return.
While planning a list ad campaign always create a good attractive call out to generate good CTR.
A pro tip will be that you should never rely upon one campaign alone but focus on multiple campaigns to increase your chances. 
A marketing campaign requires experience and understanding of the analytical reports of the related campaign, though campaigns are of many types with each campaign the strategy changes dynamically. 
Some benefits you can get as a seller with us are 
·         Complete Sales funnel Plan 
·         Experienced ecommerce team to work on multiple campaigns.
·         Over the years more than 15,000 ecommerce businesses have trusted us with their sales campaigns worldwide.
·         Budget strategy to reduce losses and improve future profits.
·         Complete transparency with strategy, functioning and results with you before implementing any plan in action. 
·         Assured results for your PLA
Want to discuss your ecommerce sales strategies? Or want to become a seller on Myntra? Reach us today!